I want to thank you so much for reading this infidelity blog.
I've watched the readership grow each month and it fills my heart with joy.
My mission at BETRAY NO MORE is to:
Transform The Hearts And Lives Of Women Through Inspiration, Education, And Support After Experiencing Infidelity And Betrayal Grief.
But beyond that, I feel very strongly that no woman should ever have to go through the heartbreak of infidelity all alone.
So I write this blog with the hope that I reach out to as many women going through infidelity grief as possible.
I want to provide the support I never had.
It's my way of giving some value to this world and making it a better place.
Today feels a little bit awesome because the BETRAY NO MORE blog was awarded one of the top 15 Infidelity Blogs on the Web!
You can read about it here >>>> Infidelity Blogs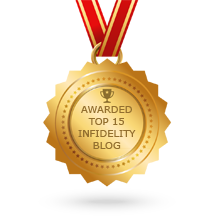 Thank you again, for reading.
You are so appreciated and valued!
Keep taking recovery baby steps one day at a time.
Hope and Healing . . . Roberta Wands